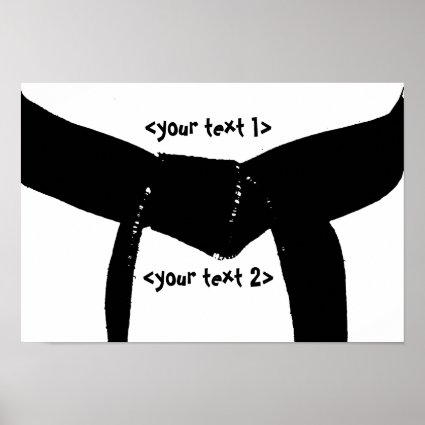 »visit the loraseverson store for more designs and products like this
Customize this Martial Arts Black Belt Poster Print with your name, team or school name or specific martial art. Create a keepsake black belt promotion test gift when you add the commemorative date of the test. It also makes a great birthday or holiday present. Suitable for karate, taekwondo, kung fu or judo martial artists. Image is a digitally enhanced photograph of a martial arts belt.
Most orders print and ship within 48 hours. Bulk rates do apply - the more you buy, the more you save. Every order is backed by Zazzle's 100% Satisfaction Guarantee.
Paper Type:

Value Poster Paper (Matte)
Quality and affordability meet at this intersection. For a low-cost, long-lived poster, select Zazzle's Value Poster Paper. Printed on a brilliant white backdrop, it's the perfect canvas for anything from vibrant art to photo reproductions. This versatile and affordable poster delivers sharp, clean images with stunning color and vibrancy.
tagged with: martial arts, black belt, martial arts black belt, black belt test, karate, tkd, taekwondo, tae kwon do, kung fu, judo, martial artist, black belt gift, martial arts gift, blackbelt, tae kwan do, ju jitsu
Sphere: Related Content