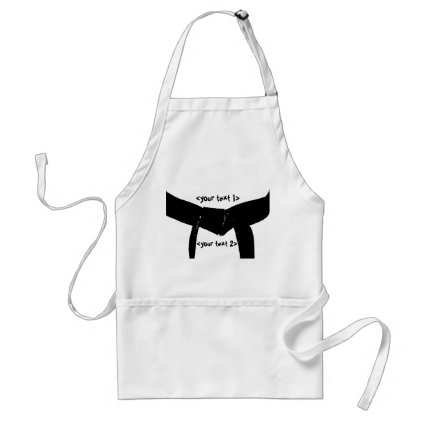 »visit the loraseverson store for more designs and products like this
Customize this Martial Arts Black Belt Apron to create a keepsake gift for a black belt promotion test, birthday or holiday. Suitable for karate, taekwondo, kung fu or judo. Image is a digitally enhanced photograph of a martial arts black belt.
Most orders print and ship within 48 hours. Bulk rates do apply - the more you buy, the more you save. Every order is backed by Zazzle's 100% Satisfaction Guarantee.
Size:

Standard Apron
Enjoy cooking, painting, or gardening paint or garden in this classic apron. It's super useful with its three spacious front pockets - perfect for all your utensils and tools. Select a design from our marketplace or customize it and unleash your creativity!
Made from a 35/65 cotton-poly twill blend, it's machine washable and a bit wider than our longer version. 24" L x 28in " W.
tagged with: martial arts, black belt, black belt test, black belt gift, martial arts black belt, karate, tkd, taekwondo, tae kwon do, judo, martial artist, blackbelt, martial arts gift, tae kwan do, ju jitsu,
martial arts apron, apron,
Sphere: Related Content