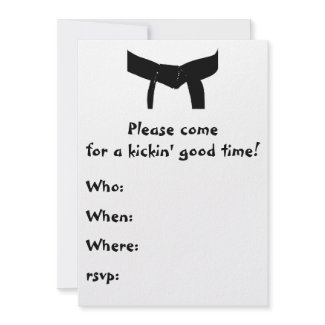 Martial Arts Birthday Party Invitations and Black Belt Test Invitations
are now on sale 15% at
Lora Severson Photography
at
Zazzle.com
. Create your own custom birthday invitations when you customize this high quality paper invitation. Feel free to change the text, font or paper type to suit your needs. All belt colors are represented. Image is a digitally enhanced photograph of a martial arts black belt.
If you are still looking for a martial arts birthday or belt rank promotion test gift, check out the
unique martial arts t-shirts, mugs, mousepads, posters
and more from
Lora Severson Photography
and
Zazzle.com.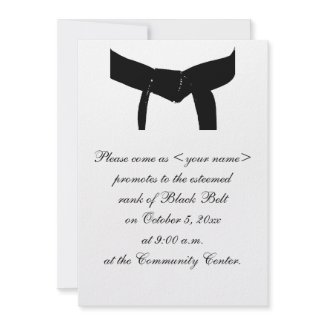 15% of the invitation net sale price will be deducted when one or more invitations are purchased and the coupon code 15OFFINVITES is applied at checkout. The net sale price is the price of the product (excluding shipping and taxes). Offer is valid from December 23, 2009 through April 1, 2010 at 11:59pm PT. This offer does not apply to past purchases and may not be combined with any other Zazzle promotional or volume discount offers. If a volume discount applies to your order, you will receive either the discount set forth in this offer or the standard volume discount, whichever is greater. Offer valid on Zazzle.com only.
Expires 4/1/2010.
Use Promotional Code:
15OFFINVITES
Sphere: Related Content